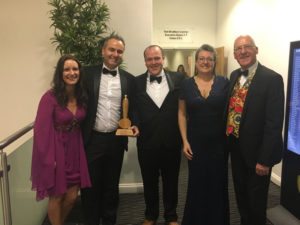 IG Elements is honoured to have won 'Manufacturer of the Year' at the Burton Mail Business Awards 2017, which took place at the Pirelli Stadium on Thursday, 19th October.
IG Elements is a rapidly expanding company with a bright future in the growing composites industry. We have a very specific 2020 vision and in order to fulfil this we have invested heavily in a new premises, to a raft of new staff and to improved services throughout the business.
We take time to understand our customers and their requirements, their build process and how we can partner with them to ensure the smooth running of this process for them. We constantly seek feedback and work to ensure we are always bettering ourselves and the service we provide.
Liam Kelly, IG Elements MD, commented;
"With so many outstanding businesses represented from across South Derbyshire and East Staffordshire, we are honoured to have won this award which recognises our commitment to the industry. We are continuing to invest in the business over the coming months and years to ensure our growth and dedication to manufacturing remains as strong as it has done over the last three years."