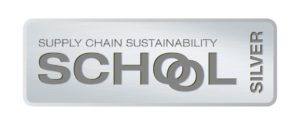 IG Elements has recently achieved Silver Status with the Supply Chain Sustainability School.
The school is a collaboration between major UK contractors and is designed to offer free training resources, networking events and action plans for suppliers across three learning areas – Sustainability, Management and Offsite.
As a GRP manufacturer, it was vital for us to become a member of the School, especially when it promotes the need for Offsite Solutions as a sustainable future in the house building industry. Achieving Silver Status actually takes us on par with some of the partners of the school, so this is a great recognition of the hard work we have put into achieving this.
IG Elements is committed to constantly improving and evolving as a supplier and we will use the resources available from SCSS to continue this.
Look out for us at some of the upcoming Construction events!