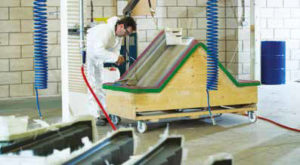 A new programme of investment in customer service will support the continuous growth at IG Elements. Going the extra mile for customers is a key value for the business which is targeting enhanced levels of service and support in 2020.
To meet the challenge of 'on time in full' delivery, IG has invested in the senior management teams, reflecting ambitious plans to strengthen its reputation as a leading manufacturing of UK offsite building products. We now have probably the largest technical team in the industry and lead the market with a bespoke design service which applies to a range extending to much more than standard GRP products.
Facing the industry challenges
In an increasingly unpredictable world, we believe the best response is to focus on innovation which enhances the way we build houses and meets the regulatory challenges faced by the industry today.
The challenge of closing the gap between the designed and built performance is on the agenda of every building material manufacturer. It is important that the construction industry delivers both the design quality and build quality of the architect's vision, unhindered by an onsite shortage of skills or labour.
Partnership works
Our objective is to work in the closest possible partnership with house builders. This is best achieved when we gain early engagement on projects. By involving us at the design stage we can provide the most efficient solutions and incorporate them into the project's drawing package. It also ensures the products are developed to meet the specific site requirements cost effectively, in a way that won't threaten the original design.
At IG Elements, we take time to understand our customers and their build process and how best we can ensure the smooth running of the supply process. We liaise with the build teams at every stage of the process, from the pre-start meetings right through to after sales support.
Some of the feedback we have received from customers has resulted in enhancement to our service including Site Support Packs and Minor Repair Kits which negate the need for call-out charges for minor onsite issues.
We are addressing these challenges through a process of continuous improvement and always welcome feedback from house builders, helping us to understand their views and priorities.
2020 and beyond
The task is clear, the industry needs more innovative ideas to streamline installation, making it safer and simpler in a market where skilled labour is a scarce resource.
To achieve this, we will seek to engage further and deeper with house builders who are hungry for new solutions to their everyday needs. Ease of installation will remain vital as the labour market tightens and skills shortages mount. Our job is to innovate for easier installation, reducing the number of tasks to be completed onsite.
Geared for service
Our seamless customer service process takes your enquiry through to completion, managed by a team who will ensure that your order arrives onsite, on target.
1. Design
We use 3D modelling for fast accurate design.
2. Estimating
We typically respond with estimates within 1 week.
3. Quality
We manufacture in a controlled environment for optimum offsite quality.
4. Delivery
Our central location facilitates the delivery of the right product at the right time.
5. After Care
Our dedicated site support team are in place for all aftercare queries.