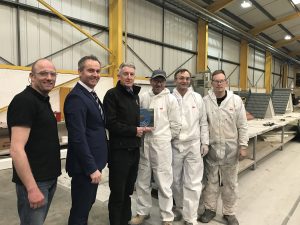 We are delighted to announce The Keystone Group has won 'Materials Supplier of the Year' at the Construction News Awards ceremony held at London's Grosvenor House Hotel, Park Lane on 22nd March. The judges were extremely complimentary about the achievements of the company. In their press release, Construction News commented:
'The judges were blown away with The Keystone Group, describing the firm as a worthy winner of this year's award for Materials Supplier of the Year – a brilliant business which ticked all of the boxes. We were impressed with Keystone's real innovation across a wide range of products. These all led to improvements and cost savings in the businesses that used them. It is clear that Keystone is a company always looking to better itself and the welfare and skills of its workers and those it supplies.'
The Construction News Awards are the only national awards for specialist contractors and the winners represent the best of the best in the UK construction industry. The Keystone Group were praised for their innovation across the group companies, with Hi-therm lintels and the Keylite insulated collar singled out for particular praise. The judges also described IG Masonry Support's brick slip system as a 'particularly ingenious solution to a common problem.' The commitment to health & safety and efficiency was also commended through the use of Smartroof's pre-insulated roof panel systems and the GRP components provided by IG Elements.
Speaking of the win, The Keystone Group's CEO Eithne Kelly commented, 'we are thrilled to accept this award for Materials Supplier of the Year from Construction News. To have been recognised in this way at such a prestigious event has been an honour for us and we are delighted that each of the companies within our group has been singled out for individual praise by the judges. At The Keystone Group we are constantly seeking to innovate, enhance and improve our procedures, manufacturing processes, customer focus and ultimately our products, and this award provides important recognition of each of these.